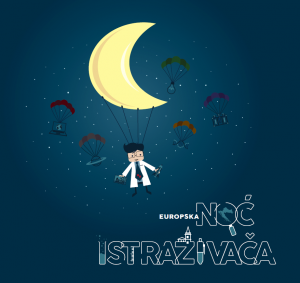 The event European Researchers' Night was held on Friday, September 28th, 2018 from 5 p.m. to 10 p.m. in four Croatian cities: Zagreb, Split, Pula and Rijeka.
In Rijeka the European Researchers' Night was held on 12 research stands spread on three floors in the building of the Tower Center Rijeka. At the national level the event is coordinated by the Ministry of Science and Education (MSE) of the Republic of Croatia, while in Rijeka the organization and its implementation was enabled by the University of Rijeka. The event is part of a European-wide Techno-Past, Techno-Future: European Researchers ' Night, co-financed via the EU Horizon 2020 program.
The aim of the project is to promote science, scientific work & methods and research to the widest public through scientific broadening forms and activities. One of the aims of this action is also to stimulate the interest of young people and children for scientific activities and encouraging their interest in science from an early age.
One of the research stands of Rijeka's Researchers' Night was that of the Centre for micro-and nanoscience and the Faculty of Engineering of the University of Rijeka. On this stand the visitors could get acquainted with technological solutions for a smart Rijeka, and especially with how a 3D scanner is used, what are microcontrollers, what are lasers and how can they be applied in everyday life, but also how to collect energy from the environment and transform it into useful electric power.
On this research stand, very well attended by the audience, the accumulated know-how, state-of-the-art technological devices and results of the scientific work were presented by Saša Zelenika, Ervin Kamenar, Marko Perčić, Peter Gljušćić and the student/volunteer Nino Dujmešić.